Academic
I am a 4th-year-ing (since 13fall) PhD student in Purdue University Computer Science department. My advisor is Prof. Suresh Jagannathan. I also worked with Gustavo Petri in my first two years.
Email: myfirstname dot mylastname at gmail dot com
My resume can be found here. Last updated: 04/19/2016
[Ad] There is also a kind of new blog for our research group. :)
My current research project is about using some machine learning approaches to help with weak memory behavior understanding. I am planning to make it more general in the future and apply to not just relaxed memory models.
In the past, I've also looked into broader topics about Data Races, Concurrent Data Structures, Weak Consistencies in Distributed Systems, different approaches in Software Engineering, Program Synthesis, and Verified Compilation. I am still more or less interested in these areas.
Unfortunately, I am not that interested in Concurrency Logic, Liveness properties, and Type Systems at the moment. :(
Before joining Purdue, I got my Bachelor's degree at Tongji University (同济大学).
Being an undergrad, I was once an exchange student at Rose-Hulman Institute of Technology (RHIT) in Fall 2012, and once an intern at Intel, Shanghai in Spring 2013.
After coming to Purdue, I've also attended Oregon Programming Languages Summer School (OPLSS).
---
Personal
I was born in 12/1992, I claim to be reliable & knowledgable & humorous! :D
To pronounce my first name, 'X' is like "sh". ʃ-u-an-k-ang.. I know it's not easy to pronounce, so also feel free to call me Lin..
I am more or less active in
微信
豆瓣,only book/movie short reviews.
微博,for something not post-able in Wechat..
知乎,almost no more contributing..
Below are several sites I had listed before, but they are used even less frequently than this blog!! 😓
So it seems I've become less and less active in SNS, that's a good sign?
Footprints
I was born in Longyan (龙岩), my beloved "small" hometown in Fujian (福建) province, southeast China.
As an undergrad, I live in Shanghai, the magnificent city (魔都), for 4 years. During that period, I also visited Singapore once (for traveling).
In fall 2012, I was an exchange student at Rose-Hulman and came to Indiana. One year later, I returned to Indiana, this time visiting Purdue for the next 5-6 years.
Below is my footprints within US (updated 12/26/2016), I love sightseeing and I still have so so so many places to explore in this equally large country!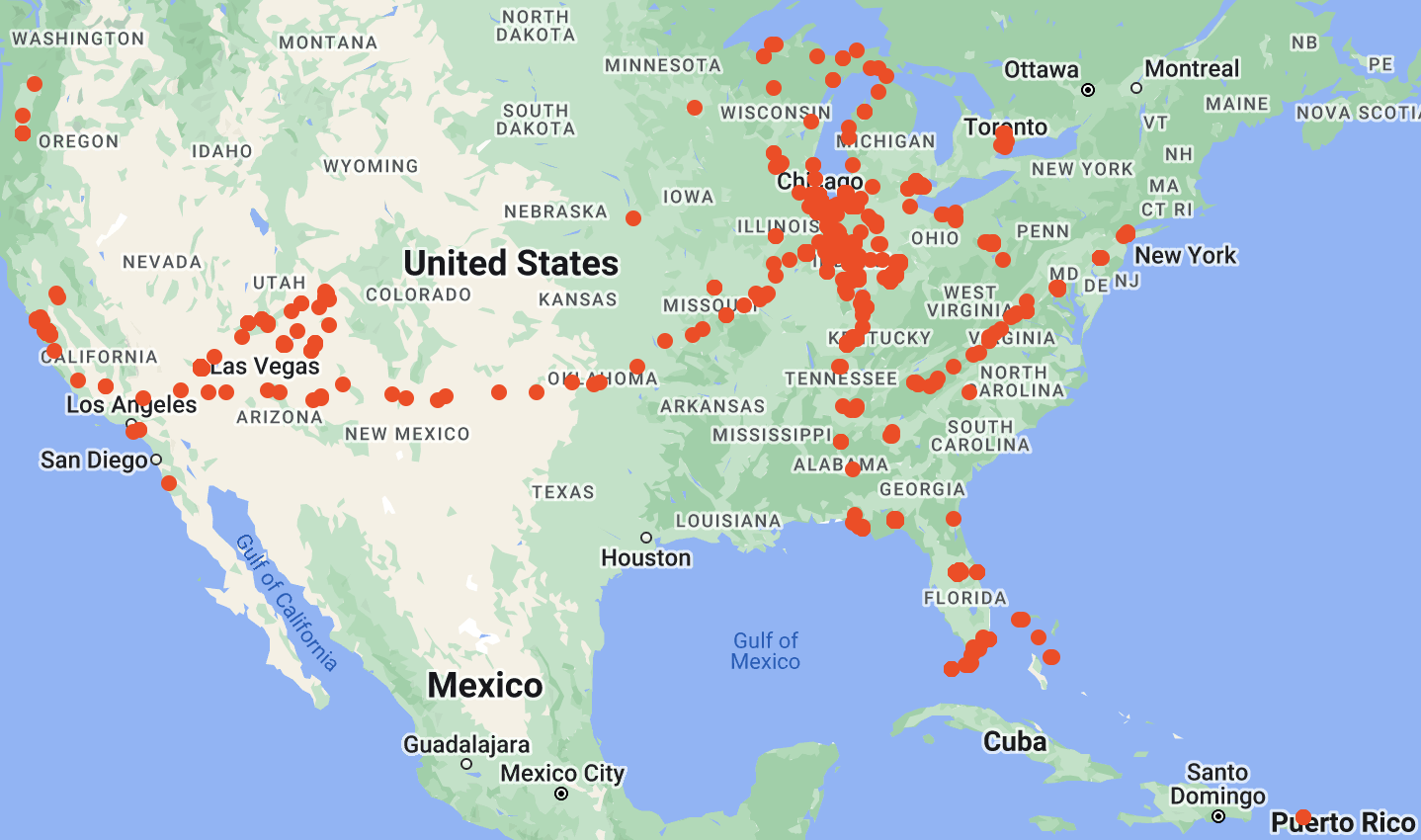 After all these, perhaps only God knows where my next destination will be. :)
Postcards
I like to send postcards to friends and relatives during my travel. I am so event-driven, i.e. without an event, I may never talk to them privately.. Sending postcards is one of my best chances to share joy and updates with them. :)
As once introduced in [1], I try to make every postcard unique! I'll try my best to prepare unique photos/patterns, and unique greetings! So, if you'd like to subscribe to my aperiodic postcards (normally only during my travel), like/comment here. :)
If you'd like to send postcards to me (even better!):
Xuankang Lin
305 N University St
West Lafayette, IN 47907
Sports
I am a "reasonable soccer fanatic"! My favorite team is AC Milan, one of the world's most popular and storied clubs. Though it had bad performance in recent years. >_<
Actually, my pen-name Andriy was named after Andriy Shevchenko, a legendary striker in Milan, when I first got introduced to soccer and English in around 2001.
Besides, I am good at badminton; I also love swimming and running.
Even More on FAQ
Q: Since you are from Fujian (福建), do you speak Hakka (客家话) or Minnan (闽南话)?

A: Sorry, I don't. We have our own Longyan Dialect (龙岩话)! Although my skill in that is quite limited cause it's only used while talking with my grandparents. And oddly, I don't have much accent as some of my "Hujian" fellows do.. ~_~
Q: Are you an extrovert or introvert?

A: I thought about this many times. Now I completely call myself "introvert". I don't feel comfortable walking to a stranger and introduce myself (THAT'S WHY I WROTE A BLOG AND LET YOU READ YOURSELF!), I am just saving the energy for intimate friends. But when have to, I don't mind being in the spotlight.

Here is a more straightforward interpretation – my MBTI test INTJ-T (architect):

Introverted – 77% vs 23% - Extroverted
Intuitive – 66% vs 34% - Observant
Thinking – 62% vs 38% - Feeling
Judging – 91% vs 9% - Prospecting
Turbulent – 52% vs 48% Assertive
Q: What are some of your happy moments?

A: Instead of picking some concrete ones, here are several scenarios I'd feel joyful/blessed:

Envisions when making plans;
Prospects after sorting out a book list (for reading all of them!);
Outlooks during recovering after workouts (for getting stronger!).

So full of possibilities! ^_^